Summer's departed, but the Hamptons still draws its crowds—not for clambakes or cocktails, but for a celebration of cosmopolitan cinema: the annual Hamptons International Film Festival. The East Coast event is committed to exhibiting films that express fresh voices and differing global perspectives, and this year featured 122 films from all around the globe.
The festival showcased new talent and legendary innovators, from the spunky opening night film, Valentino: The Last Emperor, to the event's final show, Synedoche, New York. Highlights included Thursday evening's HIFF/indieWIRE Industry Toast that brought out the international film community in honor of Wouter Barendrecht, Dieter Kosslick, Noah Cowan, Claudia Landsberger, Bob Berney, and John Cameron Mitchell.
After the applause, filmgoers flocked to their favored palaces for celebrations: the Licht-Della Femina oceanfront home, The Hedges, Prime 103, and Vicki and Stuart Match Suna's home. Seen floating among the festival's crowds: Alec Baldwin, Amy Redford, Bruce Weber, Gahan Wilson, Bob Balaban, Mamie Gummer, D.A. Pennebaker, Giancarlo Esposite, Chris Hegedus, Ryan Fleck, Anna Boden, Jamie Patricof, Elvis Mitchell, and Ron Delsener—each enjoying the array of festival talent and the autumn light of the Hamptons.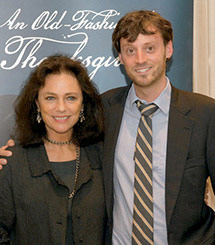 Jaqueline Bisset, David Nugent
John Cameron Mitchell, S. Winter,
Wouter Barendrecht
Erin Muller and Michael Lohan
Alec Baldwin
Jeff Levine, Stuart Match Suna
Luke Parker-Bowles, Kristy de Garis, Dominick Dunne, Timothy Jolley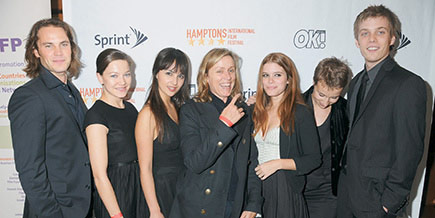 Taylor Kitsch, Hannah Herzsprung, Maryam Hassouni, Frances McDormand,
Kate Mara, Anamaria Marinca, Jake Abel