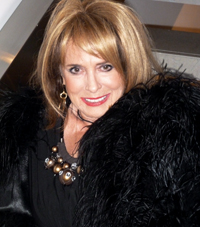 Joan Jedell
In case you forgot, the Apocalypse will strike, according to the Mayan calendar, on December 21 this year, which has caused hordes of occult fanatics to wonder if they should pack it in for the end of the world. The only upside is that doomsday is set for winter, not summer-so fewer parties to miss. But it does seem as if some celebs are sadly taking the Apocalypse very seriously and have taken a flying leap into their own self-inflicted extinction.
Could Demi Moore be the Mayan queen? After her six-year hitch (or boy toy itch?) to Ashton Kutcher, the 49-year-old sued for divorce when tabloids splashed his extramarital sex-and-hot-tub romp at San Diego's Hard Rock Hotel last fall. The 22-year-old Texan blonde wasn't Kutcher's first two-timing of his battle-scarred marriage, though to add insult to injury, the said exploit took place on the very day of their wedding anniversary. Ouch!
Once dubbed a cougar for grabbing the ambitious boy toy, rumors are flying that Demi now wants to punish her ex-hubby and grab a slice of his $150 million fortune (despite a prenup), after hitting rehab for anorexia and exhaustion-though she allegedly checked in after inhaling nitrous oxide reportedly from cans of Reddiwip. Why would this talented beauty jump headlong into her own apocalypse? Several factors spelled catastrophe for the superstars, say friends: a rollercoaster romance, the 15-year age difference, his roving eyeballs, and Demi's desperate insecurities.
Penn State had its own doomsday, as it swamped headlines and sent shock waves through the multibillion-buck college sports scene. Onetime assistant football coach Jerry Sandusky wasn't exactly your bold name until explosive charges over his sexually abusing at least eight boys over 15 years made him a household pariah. Sandusky denies all charges, but the tidal wave has taken its savage toll.
Legendary head coach Joe Paterno was sacked after 40 years for reporting the charges to superiors rather than legal authorities. Paterno, known as a simple, old-fashioned kind of guy, only did what he thought needed to be done and then went back to focusing on what he knew best, football-only to die from curable cancer in January. JoePa took the bullet that was meant for Sandusky, so Sandusky gets a trial while Paterno got a death sentence! If this isn't "apocalypse now," what is?
Well, if anything can survive the end of the world, its cockroaches-and Kim Kardashian. Mad Men's Jon Hamm may have recently nailed Kim K for being "celebrated for stupidity" (and bluntly defended his statement during a cast interview on the Today show), but Kardashian fever is more infectious than ever, and even her divorce disaster couldn't sink the reality TV phenomenon. A mere 72 days after their lavish televised sunset ceremony, Kim axed her union with NBA star Kris Humphries-and no wonder, with his alleged two-blondes-are-better-than-one spree in their Park Avenue marital suite a month before!
Kim might have been briefly stunned by the public backlash, as well as accusations she'd pocketed $17 mil for a sham wedding, and of course the jokes-"Kim's sex tape [with singer Ray J in 2003] lasted longer than the marriage"-but she rebounded fast. And with 13 million Twitter fans (a mil more than Obama), plus the smash premiere of Kourtney & Kim Take New York, Kardashian hysteria is continuing to spread. But even if a global epidemic were to wipe out humanity, you can count on Kim K peddling fashion, jewelry, and a new reality TV series-Kim and the Cockroaches Beyond Thunderdome!-from the ashes.
Maybe Greg Kelly should anchor Good Day Armageddon. The New York newscaster and son of NYPD Commish Ray Kelly might be off the hook for a rape case that almost extinguished his career, but the fallout isn't over. Kelly's accuser claimed they met on a downtown Manhattan street, had drinks, and strolled over to her law office, where she says he assaulted her. She also claimed to have gotten pregnant from him and had an abortion. Later reports assert she lied through her teeth, but here's our take on the situation: We suspect her boyfriend discovered the fling and, in order to save her own ass, she pleaded rape. Our advice to Kelly: Have your sex partner sign a pre-coital release form-that way you've got your bases covered. You'll thank us later, Greg. But single women should also beware of good-looking celebs on the street prowl-otherwise you may be asking for your own apocalypse. (P.S. While the New York Post took some backlash for planting the accuser's puss on its cover, we loved the tab's in-your-face honesty.)
But, while the Kardashians and the Kellys have survived potential career crushers, others have already tragically met their doom, and you don't need a Mayan calendar to spell it out. From the King of Rock to the King of Pop, from Amy Winehouse to most recently Whitney Houston, drugs, booze, and out-of-control living have led these supernovas into extinction. Whitney had it all, and her self-destructive path in the public spotlight is just one more cautionary tale about a star's devastating descent into her own demise.
Well, if it is "apocalypse soon," there may be only one salvation: Party on!
Enjoy The Sheet!
---
Joan Jedell appears on national and local TV.
Her photographs are syndicated worldwide.