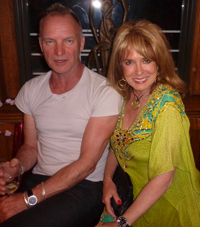 Joan Jedell and Sting at Loreen Arbus's CPW digs for a private dinner and reading
It's the world's oldest profession and yet they keep trying to fight it. Case in point: there's a school in Brooklyn—and it doesn't teach doily making. It's a "john school" for hooker addicts, run by the DA's sex-crimes branch. These bad boys can't get enough of bad girls working the streets—one "pupil" was collared when he stopped his car to pick up an undercover female cop, right after he'd dropped off his girlfriend: "Women are my downfall," he admits. So he had a choice: court, maybe cell time—or lectures on hooker detox.
Well, just stroll Manhattan and you have to ask yourself: What's a hooker anyway? The way women dress today—sleaze stilettoes, stretch skirts, and rough leather—who can tell? Is she or isn't she?
And who needs to trawl mean streets when you can drive up to a road stand and get your wiener cooked by the Hot Dog Hooker? No nasty mustard stains, either! She serves in her bikini top and loves to show off her buns ... talk about a new spin on "hiding the sausage"! After a week behind bars in an undercover sting, she was back in the van with hungry horndogs lined up for those tasty hot dogs—relished with private strip biz cards. "Get some wiggle with your wieners!" is her motto. One patron remarked, "I'll stick with the hot dogs, but I have her card just in case. I say let her do her thing."
And let's not forget about the "Mommy Madam" who ran a multimillion-buck Upper East Side brothel. She's just your average suburban mom of four, and loves to rescue, um ... pigs! One Morgan Stanley broker was reportedly helping her set up an online hooker site, and she claimed her "law enforcement" johns would tip her off in case of trouble. Well, too late—Mommy got busted.
Speaking of busted, what about the latest scandal, in which the U.S. Secret Service and Army Staff were shipped back home after cavorting with hot-tamale hookers in Colombia. Hey, if hooking were legal, you could forget all about "secret service"! So does that mean legalizing the world's oldest profession should become a priority for "national security"?
And that raises the age-old debate: Should "Flesh R Us" be legal? The cops shut down the Hot Dog Hooker again for peddling without a license, but what West Side Highway walker shows a City Hall permit to a drive-by client? The john-school students have to shell out $350 just to listen to HIV-positive hookers and witness graphic slides of diseased female organs. And it's working—of 3,000 johns, only a boneheaded 1 percent have been nabbed since. The rest have been too scared stiff to stray again.
Some experts think prostitution should be legal. It costs taxpayers a bundle just to lock up hookers, and obviously it is a needed profession—with an estimated $1 billion spent a year, think how it could boost the economy! It's legal in Holland, where it cuts down on crime and disease, and earns big bucks for the government. Speaking of, as one anonymous politico puts it: "Prostitution is legal in the U.S. We call it Congress."
Hey, aren't we all, in one way or another, either buying or selling something? Just look at Hollywood. The casting couch used to be a starlet's way up the ladder for years. Now it's gone gender-neutral—John Travolta, under the crossfire for his alleged pulp "friction" with masseurs, reportedly told one that the casting couch was how he climbed to the top.
Perhaps if prostitution were all clean and lawful, sex wouldn't be such a forbidden fruit. One anonymous john claims, "Prostitution saved my marriage and helped several ladies pay their rent. Once I realized my midlife cravings could be easily and safely satisfied, I actually stopped obsessing over it and stopped lusting for my female associates. I now enjoy true freedom from lust and a happy 20-year marriage—and I owe it to knowing that sex is just a phone call away. Stop the pimps—legalize it. Morality? What male asked for this wanton role?"
Well, whether we asked for it not, it looks like the world's oldest profession is here to stay.
Enjoy The Sheet!
---
Joan Jedell appears on national and local TV.
Her photographs are syndicated worldwide.